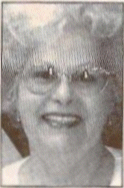 Charlotte Dorothy (Simonds) Parker - Oct 22, 1933 - Feb. 18, 2007

Charlotte D. Parker, 73, of San Angelo passed away Sunday, Feb. 18, 2007, in Albuquerque, N.M. Funeral service will be at 10 a.m. Thursday, Feb. 22, in Johnson's Funeral Home Chapel with burial at Lawnhaven Memorial Gardens.
Charlotte was born Oct. 22, 1933, in Brattleboro, Vt., to Henry Simonds and Myrtle Widger. Along with being a loving wife and devoted mother, she served as president of the S.O.O.B. #190. She also was the Past District Deputy, Grand Chapter O.E.S. #10.
She is survived by her husband, Ralph Parker of Albuquerque, N.M.; daughters Laura Lee Mendoza and husband Alberto, Sharon Garcia and husband Jesse, and Diana Archuleta and husband Rick of Albuquerque, N.M., and Janet Hiebert and husband Michael of Crawley, Texas. She is also survived by her sons, William "Bill" Lee and wife Cheryl of Keller, Texas and Randall Parker and wife Barbara of San Angelo, Texas. She is also survived by 17 grandchildren and 11 great-grandchildren. Charlotte loved her family, and she will be missed. -- Johnson's Funeral Home, (325) 655-3113 -- San Angelo Standard-Times - Thursday, February 22, 2007
To contact us: